Gluten-Free Dairy-Free Sugar Cookies
When adapting a healthier lifestyle, it becomes a little more difficult to find treats that don't taste like cardboard. But I can proudly say that you will not notice that these cookies don't have gluten or dairy! They taste absolutely amazing, but bring much less of an inflammatory load than the traditional sugar cookie. This recipe has been adapted by my sister and myself to accommodate our healthy lifestyle changes over the past years. We are both happy to share these gluten-free dairy-free sugar cookies with you and your family, to help make your health and taste buds both happy!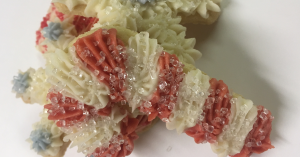 Ingredients:
1 Cup Nutiva Organic Coconut Oil (Butter Flavor)
1 Cup Organic Cane Sugar
1 Pasture-Raised Egg
1 Teaspoon Organic Vanilla Extract
1/2 Teaspoon Almond Extract
2 Tablespoons Unsweetened Almond Milk
3 Cups Namaste Gluten-Free Flour Blend
1 1/2 Teaspoons Baking Powder
Instructions:
Cream the softened coconut oil and sugar in a large mixing bowl. Add the remaining wet ingredients and continue to beat together.  In a separate bowl, combine the flour and baking powder and mix thoroughly. Slowly add the flour mixture to the wet ingredients and combine well.  The dough works best when chilled for about 1 hour. Preheat oven to 350 degrees Fahrenheit. Roll out the dough onto a floured surface or onto parchment paper. Place the cookies on a cookie sheet after cutting with your favorite cookie cutters. Bake for 8-10 minutes. Let cool before frosting.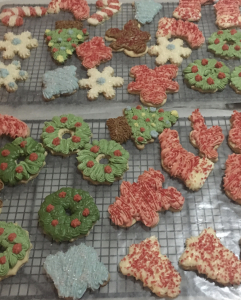 Dairy-Free Buttercream Frosting
Ingredients:
1/2 Cup Nutiva Organic Coconut Oil (Butter Flavor) 
1/2 Cup Nutiva Organic Palm Shortening
3/4 Cups Organic Powered Sugar (depending on desired consistency)
Unsweetened Almond Milk as needed for desired consistency
1 Teaspoon Organic Vanilla Extract
1 Teaspoon Almond Extract
Add Plant-Based Food Coloring if desired
Directions:
Cream together the coconut oil and shortening in a large mixing bowl. Slowly add in the powdered sugar and extracts, and continue to add sugar and milk until desired consistency is reached. Feel free to add plant-based food coloring to achieve the perfectly decorated cookies.
Enjoy! 
https://thedrmelissa.com/wp-content/uploads/2018/12/dough-2948026_1920.jpg
1440
1920
Dr. Melissa Vandermissen
https://thedrmelissa.com/wp-content/uploads/2018/08/drmeliss-dark.png
Dr. Melissa Vandermissen
2018-12-18 15:04:30
2018-12-21 00:49:30
Gluten-Free Dairy-Free Sugar Cookies