Paleo-friendly Pumpkin Pie
Don't miss out on pumpkin pie this year because you can't eat grain, dairy, or sugar! Here is a paleo-friendly pumpkin pie recipe that will allow you to splurge without the added inflammation. Pumpkin is rich in Beta-carotene, which converts into vitamin A within your body. Vitamin A is very beneficial for immune health, as well as a potent antioxidant.
Use food as medicine to attain optimal wellness!  Learn to make healthier versions of desserts and treats to keep yourself as healthy as possible throughout the holiday season.
Ingredients:
15 oz Organic Pumpkin Puree
1/2 Cup Full-fat Organic Coconut Milk or Dairy-Free Milk
3 Pasture-Raised Eggs
1/4 Cup Organic Maple Syrup or Raw Honey
1 Tsp Vanilla Extract
1 TBSP Organic Pumpkin Pie Spice  
1 Tsp Organic Cinnamon
1/4 Tsp Himalayan Salt
*1 Tsp Organic Molasses (Optional)
*Optional for added sweetness – 2 TBSP Organic Coconut or Date Sugar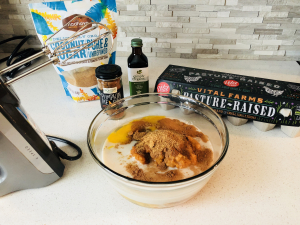 Directions:
Preheat Oven to 350 Degrees Fahrenheit. Mix all ingredients together very well, and pour into a par-baked grain-free crust. Bake for 45-60 minutes or until set. (This will vary depending on your oven)
Looking for a crust recipe that doesn't taste like cardboard? Click HERE to see which pie crust I use when I bake my pumpkin pie. I haven't been able to find anything that compares to this yummy recipe, while avoiding grains, dairy, and refined sugar. It is a must try!
*I've found that only making a 1/2 recipe when using a standard pie dish is best to avoid too thick of crust.
Enjoy!
https://thedrmelissa.com/wp-content/uploads/2018/11/Untitled-design-8.png
628
1200
Dr. Melissa Vandermissen
https://thedrmelissa.com/wp-content/uploads/2018/08/drmeliss-dark.png
Dr. Melissa Vandermissen
2018-11-02 00:12:09
2018-12-18 15:50:25
Paleo-friendly Pumpkin Pie